28th Domino World Championship 2022
The FIDO Domino World Championship is held annually since 2012 in the period from 27 to 31 December (before that on a fixed day within this period). The games are played in decentralised locations where participants form groups of 5 people.
Björn Andreas Wolst is Domino World Champion 2022!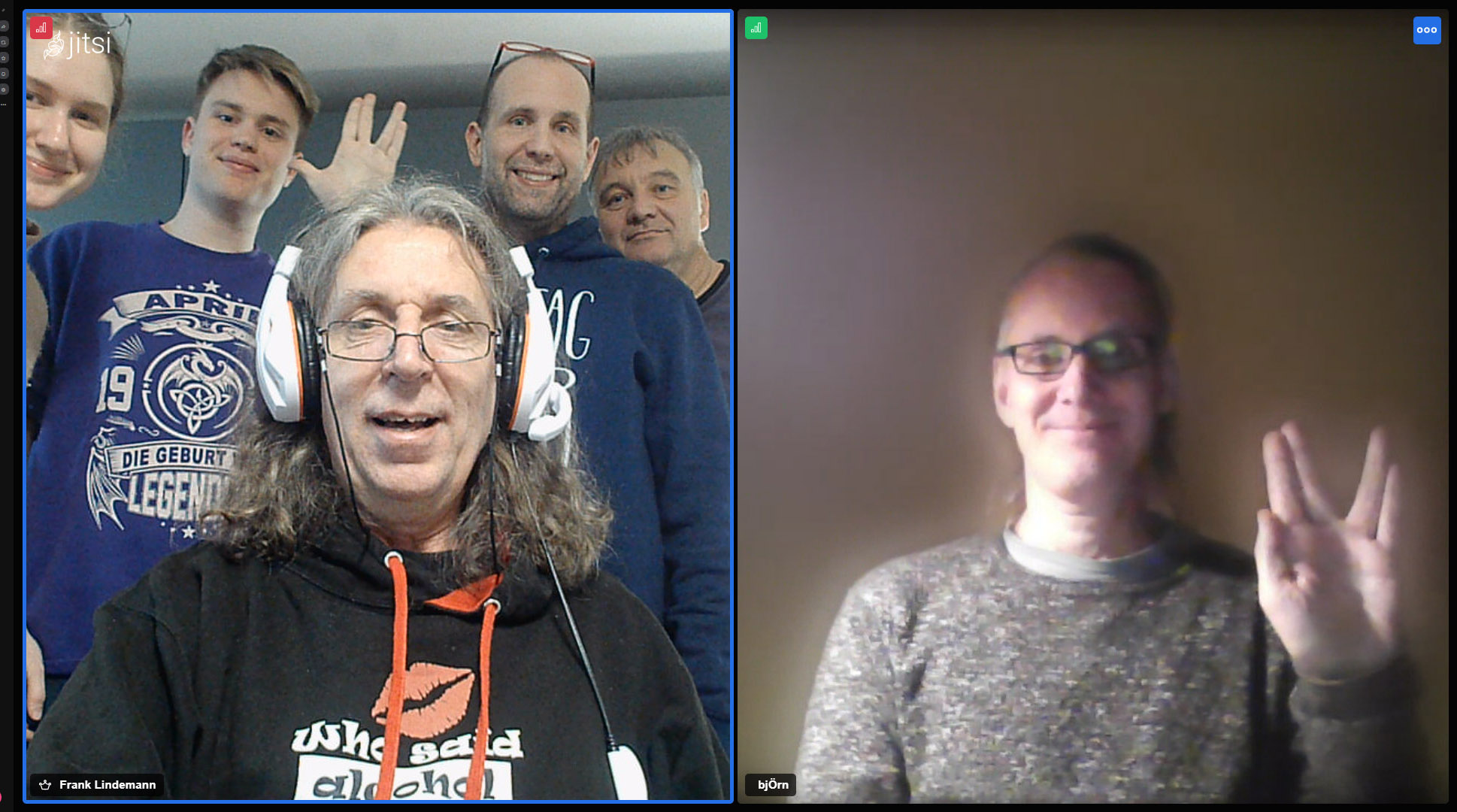 After two years in which the Covid 19 pandemic had reduced the number of participants, this year there were again 30 players in four face-to-face events – only one was added online from Kiel, Germany, to Switzerland.
The leading FIDO nations were all involved again: played in Norway, Germany and Switzerland.
Four players managed to win two of the three rounds of play, so that it came down to their score – in his third game, Björn Andreas Wolst came second, which is why this ultimately tipped the scales in his favour.
Defending champion and 2021 World Champion Matthias Nolting finished slightly behind in 17th place this year. Nick Nolting, World Champion 2016, was runner-up this year. The best Norwegian participant was the runner-up from 2020, Sigrun Scheving Aas, who came third.
The fact that the only online player won the world title is a first-time curiosity and makes Björn the first virtual domino world champion in FIDO history. The screenshot shows him on the right, his fellow players from the last round and the online moderator on the left.
We warmly congratulate all the title holders and thank everyone for their participation!
Game Results
30 participants in this world cup
| Rank | Name | World region | FLADUB | World ranking position | Match date | Venue |
| --- | --- | --- | --- | --- | --- | --- |
| 1 | IM Björn Andreas Wolst | | 1710 | 2 | 28.12.2022 | Ettingen |
| 2 | Nick Nolting | | 1587 | 38 | 28.12.2022 | Garbsen |
| 3 | Sigrun Scheving Aas | | 1574 | 35 | 31.12.2022 | Arendal |
| 4 | IM Ricki Nolting | | 1538 | 32 | 28.12.2022 | Garbsen |
| 5 | GM Alex Klee | | 1456 | 9 | 28.12.2022 | Ettingen |
| 6 | Bruno Staub | | 1374 | 0 | 28.12.2022 | Ettingen |
| 7 | Fabian Tann | | 1364 | 0 | 28.12.2022 | Garbsen |
| 8 | Robert Neumann | | 1350 | 0 | 31.12.2022 | Wyk auf Föhr |
| 9 | Max Nolting | | 1303 | 20 | 28.12.2022 | Garbsen |
| 10 | GM Angie Stich | | 1259 | 11 | 28.12.2022 | Ettingen |
| 11 | IM Bino Nolting | | 1240 | 27 | 28.12.2022 | Garbsen |
| 12 | Vidar Aas | | 1176 | 33 | 31.12.2022 | Arendal |
| 13 | Constantin Klee | | 1153 | 29 | 28.12.2022 | Ettingen |
| 14 | Rolf Melcher | | 1113 | 0 | 28.12.2022 | Ettingen |
| 15 | Torsten Fornefeld | | 1093 | 28 | 28.12.2022 | Garbsen |
| 16 | Guðný ósk Scheving | | 1052 | 39 | 31.12.2022 | Arendal |
| 17 | IM Matthias Nolting | | 1025 | 16 | 28.12.2022 | Garbsen |
| 18 | Anita Rislå | | 955 | 34 | 31.12.2022 | Arendal |
| 19 | IM Dennis Nolting | | 876 | 0 | 28.12.2022 | Garbsen |
| 20 | Manuela Neumann | | 850 | 0 | 31.12.2022 | Wyk auf Föhr |
| 21 | Sophie Weinmann | | 843 | 0 | 28.12.2022 | Garbsen |
| 22 | Heike Strahler | | 756 | 0 | 31.12.2022 | Wyk auf Föhr |
| 23 | Bernd Fünfkirchler | | 746 | 0 | 28.12.2022 | Garbsen |
| 24 | Tabea Neumann | | 651 | 0 | 31.12.2022 | Wyk auf Föhr |
| 25 | Markus Fleischer | | 645 | 0 | 31.12.2022 | Wyk auf Föhr |
| 26 | Florian Klee | | 640 | 0 | 28.12.2022 | Ettingen |
| 27 | Margarita Shpynova | | 571 | 0 | 28.12.2022 | Ettingen |
| 28 | Stina Klee | | 553 | 12 | 28.12.2022 | Ettingen |
| 29 | Werner Siegrist | | 538 | 0 | 28.12.2022 | Ettingen |
| 30 | Benn Johan Rislå | | 416 | 37 | 31.12.2022 | Arendal |
Rank
Name
World region
FLADUB
World ranking position
Match date
Venue
1
IM Björn Andreas Wolst


1710
2
28.12.2022
Ettingen
2
Nick Nolting


1587
38
28.12.2022
Garbsen
3
Sigrun Scheving Aas


1574
35
31.12.2022
Arendal
4
IM Ricki Nolting


1538
32
28.12.2022
Garbsen
5
GM Alex Klee


1456
9
28.12.2022
Ettingen
6
Bruno Staub


1374
0
28.12.2022
Ettingen
7
Fabian Tann


1364
0
28.12.2022
Garbsen
8
Robert Neumann


1350
0
31.12.2022
Wyk auf Föhr
9
Max Nolting


1303
20
28.12.2022
Garbsen
10
GM Angie Stich


1259
11
28.12.2022
Ettingen
11
IM Bino Nolting


1240
27
28.12.2022
Garbsen
12
Vidar Aas


1176
33
31.12.2022
Arendal
13
Constantin Klee


1153
29
28.12.2022
Ettingen
14
Rolf Melcher


1113
0
28.12.2022
Ettingen
15
Torsten Fornefeld


1093
28
28.12.2022
Garbsen
16
Guðný ósk Scheving


1052
39
31.12.2022
Arendal
17
IM Matthias Nolting


1025
16
28.12.2022
Garbsen
18
Anita Rislå


955
34
31.12.2022
Arendal
19
IM Dennis Nolting


876
0
28.12.2022
Garbsen
20
Manuela Neumann


850
0
31.12.2022
Wyk auf Föhr
21
Sophie Weinmann


843
0
28.12.2022
Garbsen
22
Heike Strahler


756
0
31.12.2022
Wyk auf Föhr
23
Bernd Fünfkirchler


746
0
28.12.2022
Garbsen
24
Tabea Neumann


651
0
31.12.2022
Wyk auf Föhr
25
Markus Fleischer


645
0
31.12.2022
Wyk auf Föhr
26
Florian Klee


640
0
28.12.2022
Ettingen
27
Margarita Shpynova


571
0
28.12.2022
Ettingen
28
Stina Klee


553
12
28.12.2022
Ettingen
29
Werner Siegrist


538
0
28.12.2022
Ettingen
30
Benn Johan Rislå


416
37
31.12.2022
Arendal